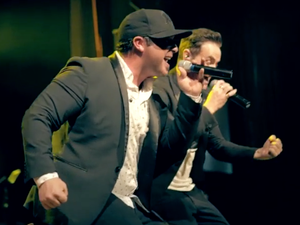 POWERHOUSE NEXT GENERATION: 
PHNG is one of the top corporate / social
wedding bands in the world today.

 
Members of PHNG have  

performed with
an 

impressive list of headliners including:
J. Balvin, Justin Bieber, Neo, Roy Orbison, 
Cliff  

Williams of ACDC, Darius Rucker and

 
Michael

McDonald to
 name a few. No band
in the country has the variety of music this band has. PNG is constantly evolving and morphing
as music styles
change while staying
true to the songs
that have stood the test of 
time.
What is very unique about this band 

is they do not have a set song list that 

locks you in to a style of
music that may or may
not

grab the audience. 
leader Alan james is an

internationally 
recognized

musician/producer who has
performed

and worked with some of the top
names

in the music business.
Alan knows how to motivate and rock a crowd. 
He continually calls tunes in a non-stop musical mashup
that keeps the crowd on the dance floor till

 
the end of the party. It is very high energy from start to finish
with phenomenal showmanship from five
lead

singers, The vocal ability is out of this UNIVERSE.
Powerhouse Next Generation stands out from the rest. 
Four Presidents, multiple sports, 

films

 & TV 

celebrities have hired this band,